A Recovery Plan for Europe
The EU's long-term Budget and NextGenerationEU
In 2020, the European Union provided an unprecedented response to the coronavirus crisis that hit Europe and the world. At its heart is a stimulus package worth € 2.018 trillion in current prices (€ 1.8 trillion in 2018 prices). It consists of the EU's long-term budget for 2021 to 2027 of € 1.211 trillion (€ 1.074 trillion in 2018 prices), topped up by € 806.9 billion (€ 750 billion in 2018 prices) through NextGenerationEU, a temporary instrument to power the recovery.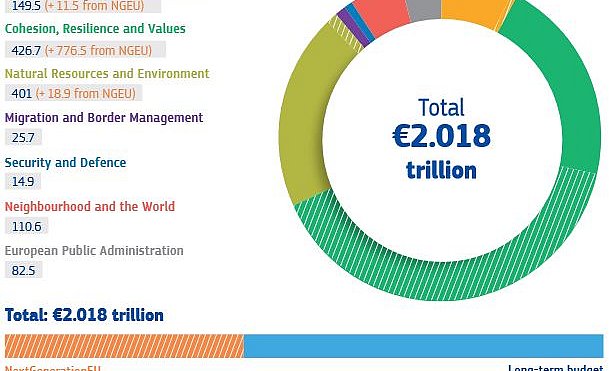 The EU's 2021-2027 Multiannual Financial Framework and NextGenerationEU. © European Commission
With a budget of € 806.9 billion, NextGenerationEU will help repair the immediate economic and social damage caused by the coronavirus pandemic and make the EU fit for the future. The instrument will help build a post-COVID-19 EU that is greener, more digital, more resilient and better fit for the current and forthcoming challenges.
The centrepiece of NextGenerationEU is the Recovery and Resilience Facility – an instrument for providing grants and loans to support reforms and investments in the EU Member States at a total value of € 723.8 billion. Part of the funds – € 338.0 billion – will be provided in form of grants.
The remainder – € 385.8 billion – will be used to provide loans from the EU to individual Member States on favourable conditions, which will be repaid by those Member States.
The funds under the Recovery and Resilience Facility will be distributed according to national recovery and resilience plans prepared by each Member State, in cooperation with the European Commission, and in line with agreed allocation criteria. These include Gross Domestic Product (GDP) per capita, unemployment levels, population and the impact of the coronavirus crisis. For example, Austria receives € 3.46 billion, Italy € 191.3 billion (consisting of € 68,9 billion grants).
In addition, NextGenerationEU will reinforce several existing EU programmes and policies, as follows:
the

Cohesion policy

under the recovery assistance for cohesion and the territories of Europe (REACT-EU), to help address the economic consequences of COVID-19 in the first years of the recovery;

the

Just Transition Fund

, to guarantee that the transition to climate neutrality works for all;

the

European Agricultural Fund for Rural Development

, to further support farmers;

InvestEU

, to support the investment efforts of our businesses;

rescEU

, safeguards that the EU Civil Protection Mechanism has the capacity to respond to large-scale emergencies;

Horizon Europe

, to make sure the EU has the capacity to fund more excellence in research.
To finance NextGenerationEU, the EU will borrow on the markets. Repayment will take place over a long-term period, until 2058. This will avoid placing immediate pressure on Member States' national finances and enable them to focus their efforts on the recovery.