Euro Helpdesk
The Euro Helpdesk is a service provided by the Autonomous Province of Bolzano-Alto Adige for all actors in the territory who are potentially interested in direct EU funding. These are companies, research centres, schools and educational institutions, associations, provincial structures and all those who wish to submit a European project under an EU direct funding programme. The tasks are:
---
Information
Especially at the beginning of the new funding programme period 2021-2027, a wide range of information about upcoming funding opportunities is essential. This is associated with awareness-raising and consciousness-raising activities. By creating thematic working tables in which various South Tyrolean actors participate, it is possible to transmit information in a targeted manner, but also to receive it.
Press reviews, thematic in-depth reports and flash news round off the information offered. Particularly important is the highlighting of opportunities that arise in connection with direct EU funding programmes.
Education and Training
Once an ecosystem has been established, the level of knowledge of the individual participants is analysed. If there is a need for tailor-made information and or training on EU direct funding, this will be worked out together with the stakeholder in the form of some kind of training. Particularly important is the organisation of study visits to Brussels for selected persons of individual South Tyrolean stakeholders (Provincial administration structures included). This can concern a single person or a group of people from the same field. The focus is on networking, on positioning South Tyrol throughout Europe and on offering oneself as a partner for projects.
Networking and Lobbying
Networking is about participating in networks. The EHD helps to understand which networks can be particularly interesting. Particularly noteworthy are Euromontana, ERRIN (European Regions Research and Innovation Network), ENSA (European Network of Social Authorities), GIURI (Informal Group of the Italian Representation in Brussels on Research and Innovation), URC (Coordination of Italian Regional Offices and Autonomous Provinces in Brussels), ERIAFF (European Regions for Innovation in Agriculture, Food and Forestry) and Vanguard Initiative (research and innovation with strong market relevance). In addition, the EHD can participate and report locally in meetings for South Tyrolean stakeholders. Support in finding partners for projects is particularly important.
Lobbying is a very delicate area. The EHD can act in a supportive way by showing how decision-making processes work at EU level.
In general, the EHD wants to be a kind of "early warning system" on opportunities that are emerging but not yet widely known.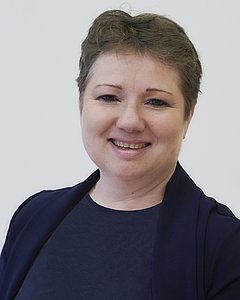 Vesna Caminades
Head of Office Autonomous Province of Bozen/Bolzano